H FRAME BREEEDING CHICKEN CAGE SYSTEM
This system
is the professional
design
for layer or broiler breeding chickens
in H frame cages, It is working as
n
ature
m
ating
that m
ale and
f
emale
breeder
s in
same
cages.
T
here is no grids in every set of cages,
therefore the breeding chickens can move without limitation.
T
hey will get more comfortable living space which can give them more vitality.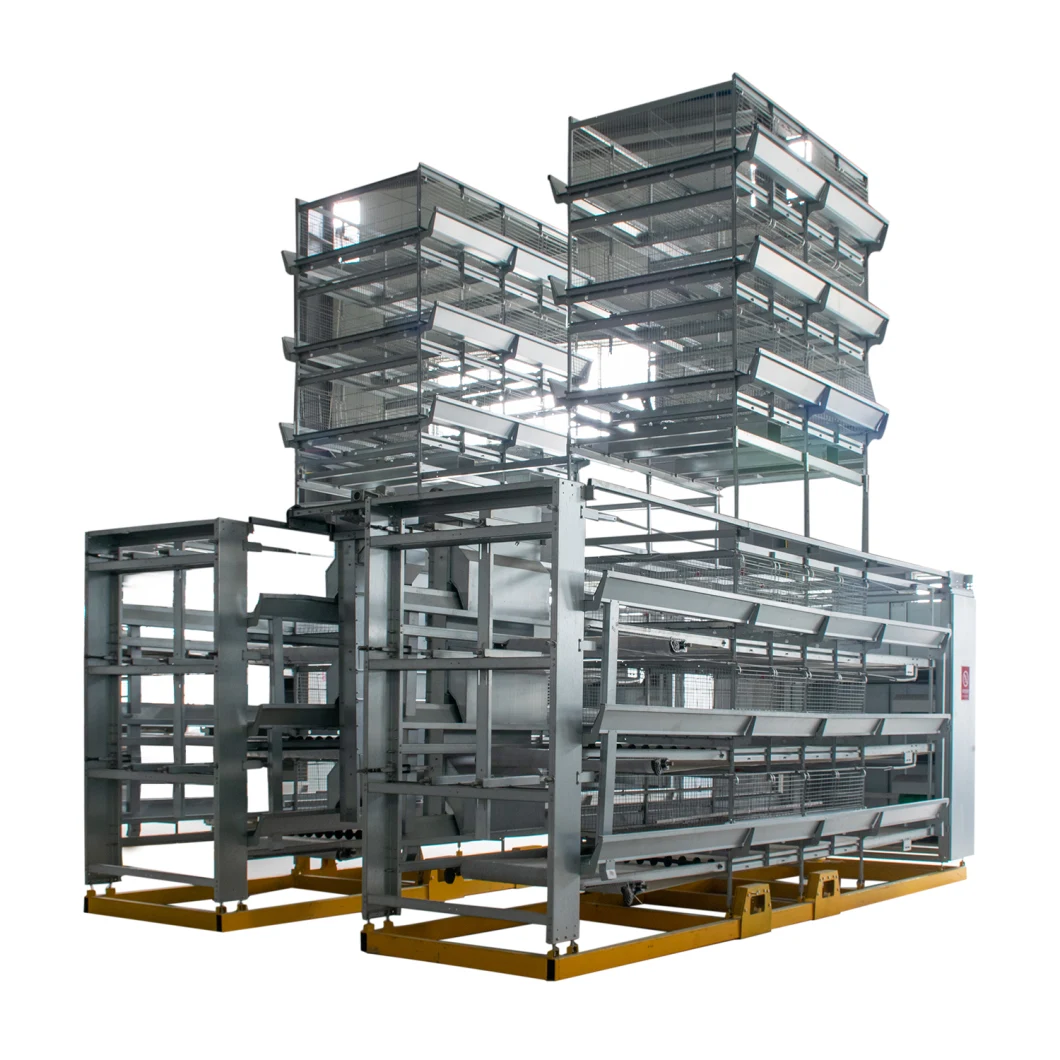 CAGE SYSTEM
This
cage
is
designed in 2/3/4 tiers and we can observe the mating and laying situation in cages timely with convenience.
T
he cage width is 1200mm,each se
ction
standard length is 1800
mm,
each unit
can hold
22/32 birds(
the basic technical data as follows
),
each breeder
can
get
average
floor
space
is
675/981 sq.
cm.
It
improve
s
the mating
and egg laying rate.
meanwhile,
the breeding eggs with higher vitality means higher incubation rate and more healthy baby chickens
by this system
.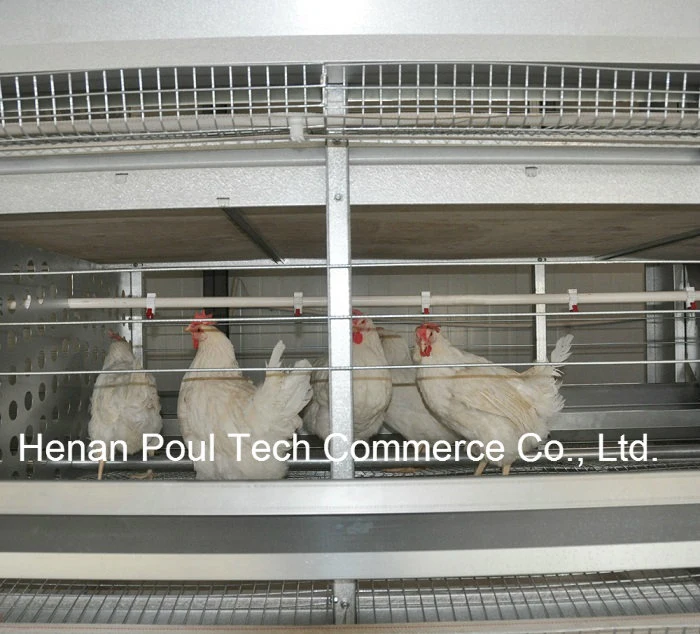 Item No.

tiers

cage dimension/tier

bird

s

/c

ell

birds/set

cm

2

/bird

PT

-H

L

B02

2

1800*1200*650

22/32

44/64

675/981

PT

-H

L

B03

3

1800*1200*650

22/32

66/96

675/981

PT

-H

L

B04

4

1800*1200*650

22/32

88/128

675/981
T
he
cages designed without cage meshes on top in case of hurting on male
breeder
s while mating,
as male breeders is much bigger than the female ones.
It has
perched unit in the middle of the cages it is easy to be accepted by
breeder
s
,
as well as the matching.
T
he front part of cages is fixed by grid, composed of vertical grille, guaranteed that
the male chickens has the optimal feeding conditions
if needed
,
and prevent the comb hurt,
another part is sliding grid, it can fully open and convenient to operate such as getting
breeding
chickens inside and outside, the grid is separated in level, it provides appropriate conditions to the feed of the male and female
breeder
s,
they can choose the distribution of grille freely.
E
ach cage are s
eparated by the closed partition board which made of hot galvanized steel sheets with thickness 1.
1
0mm, it ensures the chicken between different groups is completely isolated,
and keep peaceful and quiet space for chickens.
meanwhile,
the partition board with holes also supply enough ventilation to the chicken house.
F
EEDING & DRINKING SYSTEM
Both of the traveling hopper machines or t
he chain
feeding system are available.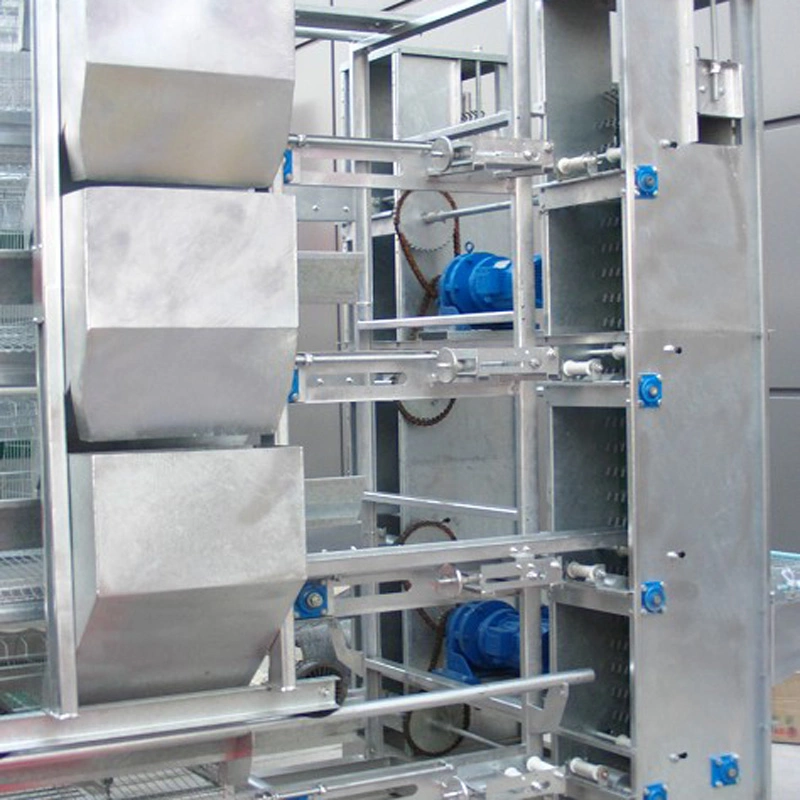 T
he hopper machines are preferable because it gives same feed materials to breeder chickens in front and back ends evenly and smoothly;
each feeding circuit has one driver,
no additional transmission components,
deep feed trough avoid feed waste.
S
ame as other H frame
layer
cage systems,
the
feed is distributed automatically to the feed carts from the feed silos by the spiral augers located in a pipe with 90-150 mm diameter.
T
he Augers materials made in South Africa,
also the best quality worldwide.
Drinking line are equipped by the water filters, medicator to ensure the water cleaning, the water regulators, terminals and splits system all coupled same as other H frame cages.
FAQ:1. Q: What kind of products do you have?
A: We provide all kinds of equipment for chicken farms, such as Chicken Cages, Automatic Drinking and Feeding System, Automatic Egg-collection System, Automatic Manure Removal System, Temperature Controlling System, etc.
2. Q: How many days will you deliver the products if I place the order?
A: Depends on the quantity you request, in 7 working days or 30 working days.
3. Q: How to install the cages when I get them?
A: If you want install the cage yourself, we will provide the Installation Manual.
If you need the professional engineer, we will send our engineer who can speak English Fluently.
4. Q: Could you please tell me the detailed information of cages? and how to get the cages?
A: Contact Kevin, you will get the detailed answers from him.
Our Aim is to make your Farm Raising more Convenient and Efficiency. Welcome to Inquiry and Visit Our Factory anytime