1. Polytunnel Introduction
We are proud to present our Polytunnel Series. Affordable, durable and easy-to-build, the Polytunnel range answers to the needs of the more demanding hobbyist growers. With our polytunnel greenhouse, your customers benefit from a structure that helps them achieve season extension! Using passive technology, Delite Polytunnels not only keep crops safe from bad weather. They protect crops from chilly periods or even high temperatures.......

- STRONG polytunnel that can withstand elements, for years on end!
Our tubular structure is made of strong steel, commonly used for naval application. The galvanization coat is made to ensure the steel structure to perform consistently for decades.

- PERFECT polytunnel details, to meet even the most demanding customer's requirements. We genuinely understand that we need to step into your consumer's shoes to come up with the most attracting poly tunnel.

- COST EFFICIENT hoop houses that allow our own clients to grow their business and thrive. All our poly tunnels are packaged into retail-ready kits. We believe in the power of a well-balanced product, at the right value for money.

- KNOWLEDGEABLE about the poly tunnel technology. Our team has been involved in many structural projects over the years. We understand the need for transparency with our clients. We guarantee structures that can withstand great loads, while being affordable.
2. Polytunnel Specifications
DGP540-10 Polytunnel Specifications
Shape

Quonset (Hoop)

Outer Dimensions
(L x W x H)

10x5x2.7m (33x16x9ft)

Main Tube

φ40mm (1.57'')

Structural Material

Galvanized Steel

Galvanization

2 layers, hot dip rich galvanization

Accessories

Bolts and nuts
Buying with us, or buying with greenhouse factory direct, offers the possibility to CUSTOMIZE YOUR GREENHOUSE range. From tube section to screws and nuts, film and packaging style, Delite Garden team is willing and ready to tackle your challenges!
OEM Polytunnel Options
Outer Dimensions
(W x H)

2m to 5m x 1.8m to 3m

Available Length

from 2m to 30m long

Tube Coating

Hot-dip Galvanization | Electro-galvanization

Main Tube Diameter

19mm | 25mm | 32mm | 40mm | 50mm

Tube Thickness

0.5mm | 0.7mm | 0.8mm | 1.5mm | 1.8mm

Accessories

Screws, Nuts & Bolts | Fastening Clip & Tools | Film Clip

Door System

Tube swing door | Film door | customized

Window System

No windows | Roll-up windows | customized

Cover Material

PE | EVA | PE+EVA | PP | Nylon | customized

Color

Green | White | Customized

Cover Thickness
(mm | g/m2)

Customize according to your request
3. Polytunnel Manufacturing
All our tubes come from one of the biggest steel factory China.

Each of our hoop house history starts from big sheets of naval grade steel, coming out of the furnace on the conveyors.
The whole journey includes going through rollers, welding robots, hot dip galvanization bath and more.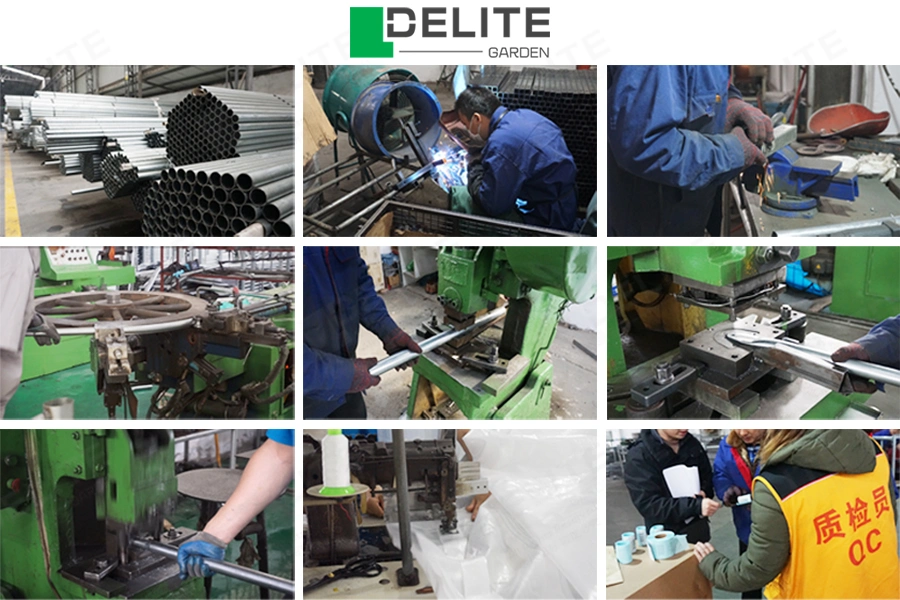 4. Polytunnel Packaging
Polytunnel greenhouse manufacturing is one thing, but packaging requires yet another set of skills.

At Delite Garden, we thrive to meet the requirements of all our greenhouse buyers over the world. Whether it is commercial poly tunnel, or retail hoop houses, we put the same amount of energy and dedication in your packaging.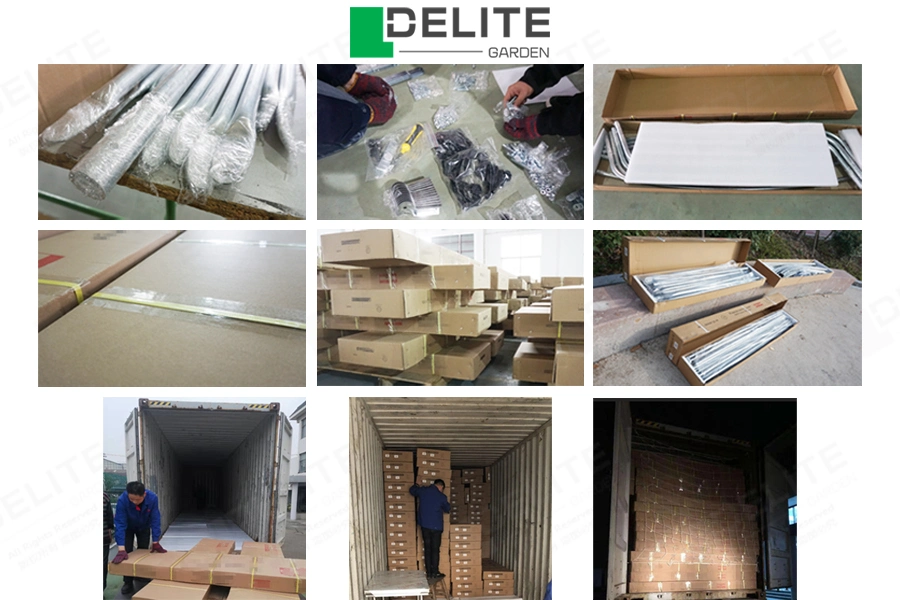 - PROTECTING DURING TRANSPORT. After all, it's the core function of packaging. Delite Garden and its teams evaluate the delivery route, stages, and times cartons, crates or pallets will be handled. Our packaging has always kept your products secure and protected from dents, rust, and other damages.

- GIVING THE BEST IMPRESSION. A great visual, clean, with correct English vocabulary and grammar is a MUST. We work hard to help you make the best of your greenhouse packaging. Whether it is color printing on the carton, or on a sticker.

- MAKING IT EASY FOR CONSUMERS. Helping consumers gain efficiency when handling a new product is proactive thinking. All our poly tunnels, or hoop houses kits come with a user manual, stamped tubes, or stickers to identify screws and parts. At Delite Garden, we make our Clients life easier.

- PERFECT BALANCE between performance and price. Our packaging solutions developed over the years can be customized to your market's greenhouse hobbyists demands.
FAQs
Q: Are you trading company or manufacturer?


A: We engineer and supervise manufacturing of greenhouses in China. We are involved at each step of the process. There is little to no delay, and are export-savvy. Most importantly, our team has been in contact with western business practices, and requirements in terms of Good Manufacturing Practices.



Q: Is your greenhouse price competitive with other companies?


A: As a greenhouse supplier, providing competitive wholesale prices is a MUST. Otherwise we would not have been able to secure any deals. We know that, as a foreign buyer, you are looking for the best greenhouse price! Especially when your distribution channel is focusing on online sales. We are willing to make an effort. As your motto states: Growing, Together!



Q: How long is the delivery time?


A: Delivery time is usually around 35 days. However, some items may take less/more time. It depends on the complexity of your structure, greenhouse materials used as well as greenhouse packaging.

Q: Can you provide greenhouse sample before order?
A: Absolutely. You just need to provide us with the reference of the product, and we'll follow up right away.



Q: How do you ensure that greenhouse quality is good?


A: Our team includes a Quality Department that functions independently from Sales Department. We conduct random inspections on each and every batch of products. Our inspectors are knowledgeable and can spot defects at each stage of the production. Plus, if required, we can send you pictures of your order during and after production. We also have a container loading process that will definitely reassure you!

Q: How do you protect items from damage during transport?
A: From small greenhouse to large greenhouses, we pack them with the utmost care. We make sure that cartons are thick and strong enough. Parts are tightly strapped so they don't get damaged during shipment from China.

Q: Is it easy for customers to install your greenhouse?
A: Yes. Delite Garden greenhouses are all engineered to be easy to set up. Plus, all our greenhouses are exported from China with a complete set of fasteners, tools and instruction sheet!
Your greenhouse business is located in a non-English speaking country? Not a problem, we help you translate the instructions sheet!



Q: Do you have warranty for your greenhouses?


A: Yes. We have a 10-year warranty on some structures and 5-year warranty on specific greenhouse poly cover.

Q: How do you process complaints and defects after delivery?
A: Delite Garden stands behind its products. It is only natural for us to implement a professional after-sales service. We know that 100% perfection does not exist. We are ready, and willing to take responsibility for defects, missing products, and other issues that may arise. We have a process in place that allows our client to provide proofs and get rebates, replacements etc…

Q: What is the payment term?
A: Delite Garden usually works with T/T, we also work under L/C with loyal clients. Feel free to ask us for more information about InCoTerms.

Q: Do you customize greenhouses?
A: Yes. Delite Garden is OEM/ODM available. Our engineers will absolutely try their best to help you customize greenhouses that suits your target market and customers.

Q: Can you develop greenhouse prototype in China?
A: Absolutely. One of our core strength is that we have the resources to develop a completely new greenhouse shape and structure. Whether you need a small greenhouse or big greenhouse for backyards or retail business, just contact us here!


Phone: +86 186 2191 2330
Website: https://delitegardensupplies.com